Search Tyres by Vehicle Registration
Are you looking for All Season Tyres for your vehicle?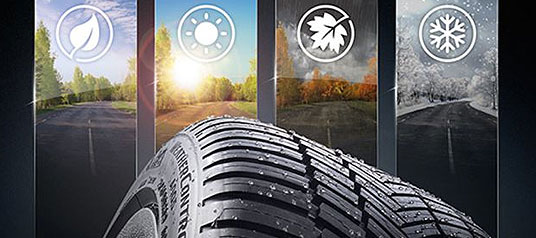 The All-season tyre – a compromise between summer tyres and winter tyres
If you want to avoid the costs of the annual tyre change from summer tyres to winter tyres and vice versa, or if you have no space to keep an extra set of tyres, you can easily switch to all-season tyres or all-weather tyres. The profile of these tyres combines the two different groove arrangements of summer and winter tyres so that all-season tyres can be used in warm temperatures as well as in snow, mud and ice.
Their disadvantage, meanwhile, is that they do not come close in winter to the properties of good winter tyres, as they give less grip on snow, and in the summer, due to their softer rubber compound are subject to higher abrasion or wear and increased fuel consumption. Overall, the all-season tyre is therefore only a compromise, because it does not have the optimal properties for the particular season and thus does not offer the same performance and safety as summer or winter tyres with appropriate weather.
If you don't drive thousands of miles every year but drive more locally instead, all-season tyres may indeed be a good option for you.
Buy cheap All season tyres Birmingham – Flaxley Tyres
If you opt for all season tyres Birmingham, you can find many different brands at excellent prices on our website.
Not sure which ones to buy? Let us advise you. We can tell you what to look for when buying and which tyre is best for your vehicle.
Speak to you soon.
YourFlaxley Tyres Team