Are you looking for Tyre Pressure Check for your vehicle?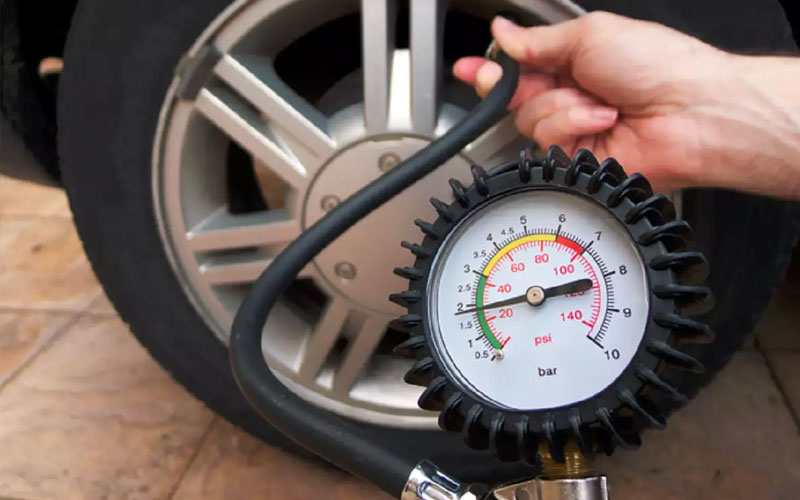 The right tyre pressure
Not only good tyres on the car contribute to safety, comfort and low fuel consumption. The right tyre pressure is also crucial.
Too low a tyre inflation pressure has some disadvantages: Firstly, because of the higher fuel consumption and the lower mileage performance, it weighs on the budget and the environment. On the other hand, it can be a danger, because the driving characteristics of the car when steering and braking deteriorate significantly, especially on wet grounds, which can quickly lead to aquaplaning. At high speeds, an under-inflated tyre can even burst.
Even a filling pressure of about 0.4 bar below the setpoint results in an approximately 30 percent lower mileage of the tyre and increases the fuel consumption by two percent.
Be careful when you have a lot of luggage in the car
The correct tyre inflation pressure specified by the vehicle manufacturer can be found in the operating instructions, on the driver's door frame or in the fuel filler cap. It depends on the vehicle load and can vary up to 1 bar.
If you are fully loaded, for example when going on holiday, you must increase the tyre pressure accordingly. In individual cases, vehicle manufacturers prescribe a higher tyre pressure when driving at high speeds.
Tyre pressure values between 0.1 and a maximum of 0.2 bar above the prescribed values do not hurt in everyday life and give a little reserve. The fuel consumption and comfort are thereby slightly reduced.
When measuring the pressure - ideally at 20 degrees outside temperature - the tyre should not be too warm. It is best to check the pressure before driving or after only a short drive.
Regular control is important!
If the driver determines at regular checks that the tyre pressure is always well below the set point and there is no visible damage, the tyre's valve may be leaking. Here at Flaxley Tyres, we can easily and inexpensively replace it for you. If there is any kind of damage visible, your tyre needs to be repaired (if the damage is in a repairable area of the tyre).
Tyre pressure monitoring systems (TPMS) are also often installed in newer vehicles. They are primarily intended to alert the driver to a rapid pressure drop while driving. Nevertheless, the driver should regularly check the tyre pressure manually.
Free Tyre safety check – Birmingham – Flaxley Tyres
Not sure how to do it?
No problem. Just come to our workshop from time to time. We will be happy to check your tyres for you – free of charge.
After a thorough visual inspection, we will check/top up your tyre's air pressure. In case we find any damage, we will show- and inform you.
A free tyre check at our Flaxley Tyres garage does not take long, but you will leave us with peace of mind.
Do you have any questions about tyres and tyre safety?
Please get in touch.
Your Flaxley Tyres Team
Car Tyres Repair Areas Covered: Solihull, Sutton Coldfield, West Bromwich, Dudley, Walsall, Halesowen and Bromsgrove.