Are you looking for Puncture Repair for your vehicle?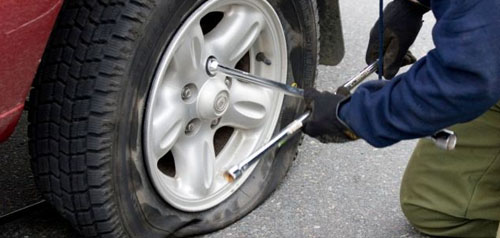 What can you do if you have a flat tyre?
Let your Flaxley Tyres Team give you important tips at this point:
If there is a nail or screw in your tyre, but the tyre is not flat, please do not touch the item – just leave it in the tyre. The item is covering the hole, preventing the air from escaping too quickly.
Please change the tyre if you can. If you cannot change a tyre, please take the shortest route to our Flaxley Tyre garage if possible. If you pass a petrol station on the way, it may be advisable to refill the tyre with air. If the air pressure is too low, the sensitive inside of the tyre may be damaged.
If the tyre is flat, you should change it immediately. Do not continue to drive. Apart from the danger, even on a distance of five meters, a flat tyre can be destroyed if you keep moving.
Puncture Repairs – Birmingham – Flaxley Tyres
In the following cases we can repair your tyre:
The tyre is approved up to a top speed of 130 h (H-tires).
The object is in the centre tread of the tyre.
In the following rare cases, a repair of your defective tyre is unfortunately no longer possible:
The damage is in the sidewall or the so-called "walking area" of the tyre.
At Flaxley Tyres we do not repair sidewall damages as they are not considered safe.
Some high-speed (Performance-) tyres may not be repaired for legal reasons as some tyre manufacturers do not consider it safe.
If the damage has previously repaired with a DIY repair kit, we won't be able to repair the damage again as this is not allowed.
Run-flat tyres – they are not supposed to be repaired due to their particular material and make.
Basically, most damage from nail and screw holes etc. can be repaired. Please always come to us straight away. We will help you.
In case you get a flat tyre while you are in our area, please call us. We will do our best to come to you to help if we can.
If you have any questions, please get in touch with us.
Car Tyres Repair Areas Covered: Solihull, Sutton Coldfield, West Bromwich, Dudley, Walsall, Halesowen and Bromsgrove.